Cash Or Crash live Review
Cash or Crash live is a very interesting live game show produced by Evolution, the same company that brought you Mega Ball 100x, Gonzo's Treasure Hunt, and Deal or No Deal, among other live casino games in South Africa. The game takes place inside a balloon flying over a huge city. Your trusted flight captain will lead you, and you will be tasked with bringing the airship as far as possible without breaking down.
Sites To Play Cash Or Crash Live:
There is little debate about how far Evolution has progressed in the live casino game. The level of creativity their studio has over the past several years has been amazing. We'll look at Evolution's latest hit, Cash or Crash, in our Evolution Cash or Crash review.
Continue reading this article if you want to know more about Cash or Crash, as we here at Best Arab online Casino have done an accurate review about this game.
General Information About Cash Or Crush
Cash or Crash Live by Evolution is one of the largest, newest and most interesting live casino game offerings for software suppliers in the world. It's a completely new idea and looks that we've never seen before in business. Cash or Crash uses advanced augmented reality technologies to transport players onto a virtual balloon. Huge prizes are buried high above the clouds, and only the bravest players will be able to climb the 20-step ladder!
How To Play Cash Or Crash Live
While the general atmosphere of the game is somewhat unusual, there is nothing to be afraid of playing cash or crash. After all, it's meant to be a fun experience and not a serious gambling game.
The live casino host oversees the game, which is played on a lottery-style bingo machine with 28 balls: 19 green, 8 red, and one gold.
Before you pull the ball, you have three options:
1. Continue
Keep playing with all your possible prizes. If you get a red ball after this decision, you will lose your bet and have to start over.
2. Take Half
Withdraw half of your potential winnings and keep the other half to play with. The winnings are paid out at the end of the game round.
3. Take It All
Finish the game by cashing in 100% of your winnings. If you want to play again, you will have to wait for the next round to start.
The easiest option is also the most boring one. He recommends that you stop as you go. The benefit of this method is obvious. You will walk out of the tour with more money than you started with. However, you will not earn much money. This method is ideal for those who just want to extend the duration of their session. If you want to win big, you will have to risk more chances.
If you get a green ball, you will keep climbing the pay-off ladder, but if you get a red ball, your cash balloon will collapse!
If you get the golden ball, you will move up the ladder, increase your potential prizes and protect yourself from the next red ball.
If you reach the top of the pay scale and earn a golden ball, you will earn 50,000 times your stake.
If you don't make a decision within the time limit, the game will assume that you want to "continue" playing with all possible prizes.
It is entirely up to you how much risk you are willing to accept next. Some players will choose to take half the game and leave the other half for others. Others will do their best to get the highest prize. We recommend a more cautious approach. It's better to have a few small wins than one big victory that you won't be able to achieve.
Profit Strategy In Cash Or Crash Game
The golden ball gives players an extra "life", allowing them to hit the red ball and keep playing.
Keep in mind that the higher you level up, the more likely you are to crash. There are fewer green balls, after all.
The highest RTP we've seen in a gaming style title is Cash or Crash. In other words, it will likely be rewarding in the long run.
Cash Or Crash Live
The main thing Evolution achieved with Cash Or Crash was to give players more control than ever before. Cash or Crash has a similar feature to Crazy Time's canon, where you can manually control the canon. In fact, cash or crush is all about giving the player power. As a result, this unique feature will differentiate Cash Or Crash from the competition.
Moreover, the multipliers are part of the additional elements of the interactive casino game. Multiples can be awarded at the end of each round, starting at 1x. You are on the right track as long as the balloon climbs to the top. However, if it starts to decline, complications will fall with it.
In general, rely on your intuition to win Cash or Crash by Evolution, but also expect a plan. There are some techniques sometimes used, but it is a poker type. You must choose carefully whether you want to keep all or half of your winnings or stay off the table. You make the decisions. As a result, Evolution's Cash or Crash is suitable for people who are ambitious and prefer to take charge.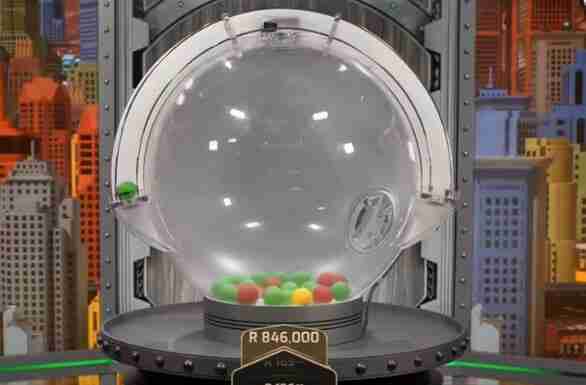 Conclusion About Cash Or Crash
In short, Cash or Crash is a new and exciting online casino game that holds a lot of promise. It praises the ground rules because it is, after all, a game of chance. However, being the most complex gaming offering in the industry, it offers player control. Apart from controlling the amount of the bet, you can also use a strategy to influence the outcome of the cash or breakout.
Cash Or Crash FAQ
How To Win The Bet In The Game Cash Or Crash?
You can choose one of the three options each time you draw a green ball. You have the option to take all the money, which will end the round. Not only that, but you can put half of your winnings in the bank and keep the other half to play with. Finally, you can play with the full amount you won in the hope of a big win in the future.
How To Play Cash Or Crash Gambling?
Make a bet. The first step in the game is for the player to place a bet.
Draw the ball drawer that starts working after the bets are closed.
Make your choice. You have a choice after each green ball.
A new round started. When you draw a red ball or win, the game is over.
What Is The Legal Age To Play Cash Or Crash?
There are no laws that prevent players over the age of 18 from participating in online casino games for real money. You can play this game as you wish and not worry about anything.
What Is The Reward For Reaching The Top Of The Ladder In Cash or Crash?
If you reach the top of the pay scale in the game and earn a golden ball, you will earn 50,000 times your stake.
What Are The Betting Options In Cash Or Crash?
It is really easy to play Cash or Crash Live. This is represented in the many playing styles available to you. After each ball is drawn, the participants have three options to choose from. First, they have the option to continue playing with their full prize money, secondly to take half and continue, or thirdly to take their prize and stop. The way you choose will be determined by your goals to play this game.